Manon Raath
5 steps to sustainably rebuild your wardrobe.
With winter arriving in Perth, I'm constantly looking for ideas of things to do on my weekends. In Perth we have rainy winters, so no more spending every free minute outside on the beach, going for hikes, camping or backyard parties.
I know, I cannot complain. We have pretty mild winters. I'm just a bit dramatic at times.
Winter definitely has its perks, but I cannot be reading books and cozying up for a movie for the next 5 months straight. I usually plan things so I have something to look forward to.
Anyway, an idea has been brewing in my head over the last few weeks and I have now formulated a plan for what I'll be doing this winter.
I am re-building my ethical wardrobe. I'm aware that it doesn't sound too exciting, but bear with me.
I love fashion. I love organising things, and I am greatly passionate about ethical and sustainable clothing.
I have also felt uninspired with my own wardrobe for a while. I wear the same 3 T-shirts and 2 pants, and it's getting a bit tired now. I am all for a capsule wardrobe, and still follow some guidelines for building and having my own, but as a creative person, I need a few splashes of surprises.
So, without further ado, here is my plan and tips for spicing up your wardrobe, while keeping it ethical and sustainable.
1. Build a style board to see what you like.
This may sound silly, and you don't have to go all out and make a collage from cut out magazine pictures (do I sound a bit outdated here?), but start a collection of images and items that you truly love and like the style of. My favourite method is using Pinterest. My clothing board is even organised into categories of tops, bottoms, dresses, details, etc.
The key is to take your time. You have possibly known for a while what clothes and styles you like more than others and you may even already have some of those items in your wardrobe.
However you do it, it's important to find out what you like, make a record of it somewhere, and keep referring back to it.
2. Go through your existing clothes.
Sort through your wardrobe, and Marie Kondo the bazoogles out of it. BUT if it doesn't spark joy, put it to one side first. Look at what you have, and make sure you love the bits that you keep.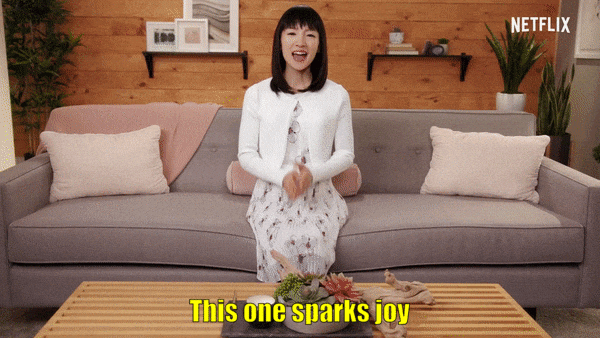 Now, for the pieces that don't bring you so much joy… Ask yourself "why?"
It's usually one of 6 reasons:
- It doesn't fit anymore
- It looks or feels old fashioned
- It is stained
- It's got a rip or it's damaged
- You have outgrown it (I have some teeny tiny cocktail dresses in my wardrobe that would certainly raise a few eyebrows if I were to still wear it).
- You can't fathom why on earth you would ever have thought that it was a good idea to buy this item.
3. See if you can save or change any of the items that are in your 'no joy' pile.
Images via Pinterest.
This is where you need to start thinking a bit more creatively.
If it doesn't fit, you can take out the sewing machine and tailor it so it does. Or take it to your grandma, your mum, your auntie or an alterations store.
If it looks old fashioned, see if you can change it to make it a bit more modern. You can maybe alter the silhouette, sleeves, or length. Add a nice trim, dye it a different colour, or change the buttons. The possibilities are endless and it's the perfect time to let those creative juices flow.
If it has a stain on it that doesn't want to wash out, sew a patch over it, embroider over it, dye the whole garment a darker colour, or cut the stain off depending on where it is located.
If your item has a rip or if it's damaged, mend it. Mend it until your garment is hanging by a thread. We have forgotten that we can fix and mend items, especially because we usually pay so little for it, so it's not worth paying to get it fixed.
But it's not about how little you paid for the garment originally; it's about how long you can make it last before it ends up in landfill. And have you heard about visible mending? Look it up. Your item can look like a brand-new designer item once you're finished with it.
Zips can be replaced, buttons can be resewn, studs can be replaced, rips and seams can be mended and holes can be patched.
If you have outgrown it, see if you can change it into something else that's wearable. Or gift it to someone (especially if it's a nice dress or an expensive garment). You can also swap it at a second-hand store for a store credit, sell it online or give it to charity.
And then lastly, if it's a garment you cannot change into something better, give it to someone you know will love it, sell it online or donate it to an Op Shop (for those of you who don't live in Australia, Op Shops are second hand stores). Keep in mind that it's only good manners to wash your clothes before giving them to other people or donating them to stores. No Op Shop wants a daggy, old, stained T-shirt. They cannot sell it. Cut your old shirts up into rags to use around the house.
4. Go shopping for the last few new items
After you have gone through your wardrobe, and turned your 'no-joy' pile into new joyful piles, you generally won't need a lot to finish your new look.
There are a few ways to go about acquiring new items.
My first place to look at is a selection of second hand stores. You can find really amazing pieces. But take your time when you go, and look through the racks carefully. Op shopping isn't like normal shopping. You have to go find that perfect item amongst a pile of not-so-perfect items.
I know a few people feel grossed out by the idea of wearing something that used to be worn by someone else, but you will obviously wash it before you wear it AND how many people have tried on clothing items in the other shops before you tried it on and bought it? It's not so different.
If you cannot find anything you like at a second hand store, look for items at second-hand online sites like Depop.
Finally, if you are still unsuccessful, look for items in retail stores. Be mindful of where you buy and what brands you support. Not all brands are equal. Quality is always better than quantity.
Here's my checklist I go through before I commit to buying something:
Do I absolutely love it?
Does it fit perfectly, and if not, can I tailor it to fit perfectly?
What fabric is it made of? I generally steer clear from synthetic fabrics.
Am I still going to wear this 2 years from now?
Does it go with other items I have in my wardrobe?
If the answer is no to any of the above, I won't buy it - as simple as that.
5. Spice-up your older items with shoes and accessories.
Image via Chon & Chon Blog
I'm not really an accessory girl, but a lot of you are, and that's a great way to change the look and feel of your outfit.
Shoes can also make a huge difference to an outfit.
So there you go. This is what I'll be doing over the next few months. I find it helps to have a clear plan.
My pile of clothing that needs alterations is getting bigger every day, so I look forward to being a bit more creative in that sense.
Keep in mind that when you are sorting through your wardrobe, whatever you get rid of is going to end up somewhere, so make absolutely sure you cannot re-use it before you chuck it out. And in that same way, make absolutely sure you love the new pieces before you buy them.
And lastly, good style isn't wearing what is in fashion at the moment. Good style is wearing your clothes with confidence, wearing what suits you and loving your pieces. Fashion seasons come and go, but style lasts forever.